Breda, April 5, 2021
Last week, Squad Mobility moved to her new office in Breda in the south of the Netherlands.
Although working from home has been the norm last year, the steady arrival of tools, components and materials for assembly of the first Squad Solar Cars forced us to look for an office with a workshop to build and test the first series of prototypes.
The Dutch city of Breda gave us a warm welcome in true 'Brabant style' in their Incubator Breda facilities. Marco Sprenkels of Incubator Breda is happy with the new residents; "Squad Mobility with their revolutionary new Squad Solar City Car is typically the sort of startup or scaleup that we have been looking for. The Solar City Car concept fits also ideally with the focus of the Incubator and the city of Breda to become zero emission and climate neutral".
Parts Arriving
After two years of development, the parts and components for the first series of prototypes are now steadily arriving at our workshop. From wheels to lights, suspension, motors, batteries, electronics, solar roof, it is all coming together these weeks. We expect to have the first rolling prototypes to test this summer. The first 1:1 ergonomic prototypes have been finished for some weeks now and the first ergonomic tests have been conducted. This resulted in several improvements in the vehicle, particularly on ergonomic aspects such as ingress and egress, seating position, controls and comfort.  All is looking very good so far.
Prototypes
Unfortunately we can not show these first prototypes just yet as they are not meant for public sharing. We will update you regularly of progress in building the first prototype which we will release within just a few months. We estimate that the unveiling of the Squad Solar City Car will be just before or just after the summer recess. We will release a video of the Squad in various use cases. We will keep you updated and involved and will ask your opinion from time to time about various aspects of the Squad.
Wheels
For example, the wheels are parts that many people have opinions on. We will opt for aluminium rims over steel rims, not only because of the weight aspect but also to prevent corrosion. Aluminium alloy wheels are more expensive but also more durable and aluminium is one of the best recycled materials in the world, therefore quite sustainable.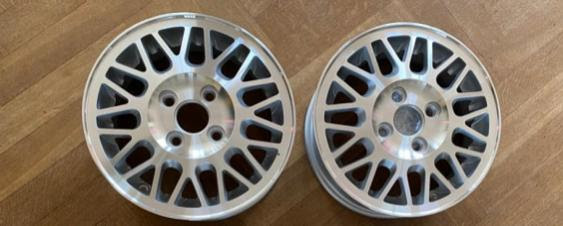 We will have more designs but want to share this design with you, please give your opinions and/or show us your suggestions. In the coming weeks we will give a choice of three designs of which you can choose your favorite.
In the coming weeks we will share more updates about other components and we will also ask your input on some design decisions. In two weeks we will share some good news about the latest financing round and we will update our website and webshop, so stay tuned!
Robert Hoevers & Chris Klok