SQUAD SOLAR CITY CAR
Easy and Secure Solar Mobility for All
Squad is World's first Solar City Car for daily (sub)urban mobility.
A solution for urban emissions and congestion, designed for sharing platforms and private use.
Easy like a moped with the comfort and security of a car.
Squad offers an affordable, secure, quick and sustainable solution for your daily mobility needs. Doing groceries and shopping, commuting to work, bringing the kids to school, sports club, social visits, doctor etc.
All your daily trips without the cost and hassle of parking, charging, traffic, and congestion charge. The Squad is surprisingly spacious and comfortable, stable and very safe with a full crash structure, roll cage and belts, no helmet needed. Easy to operate, easy transverse parking, easy access. Sustainable and fun!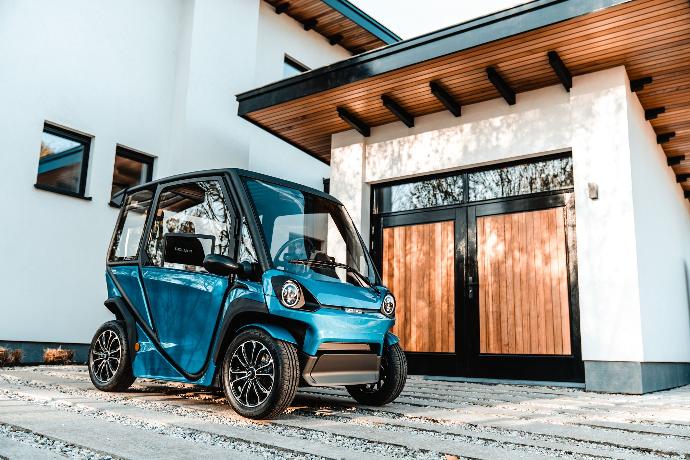 Meet the Squad Solar City Car
The Squad is a compact City Car designed towards European Union L6 and L7 regulations. The 45 km/h L6 for two persons and the 70 km/h L7 for up to 4 people. No car drivers license for the L6 is needed in most countries. Heating is standard, doors and airconditioning are options and the batteries are portable and swappable.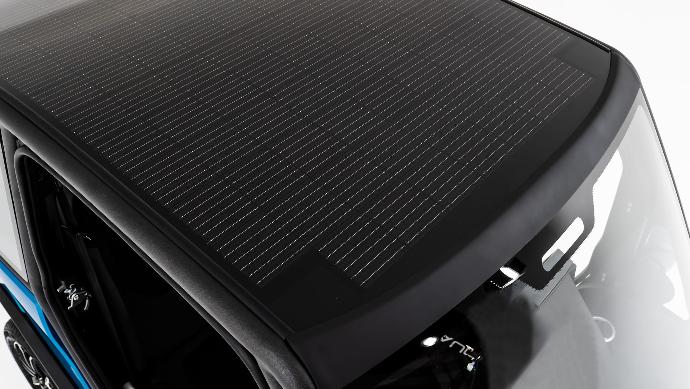 Squad Solar Car charges itself
The Squad automatically charges its batteries with solar energy from the solar panel on its own roof. Zero emissions, free, silent and wireless. all day and every day throughout its life cycle, when driving and when parked. Even in northern countries like The Netherlands the sun gives enough energy for average urban use. The solar panel can charge up to 20 km per day in Europe. The average micro car usage is around 12 km per day. The solar panel works in any light, also in the shade. The vehicle is powered by electric motors and batteries so it also works in the night, in winter or indoors . When extra range is needed, the portable batteries can be charged directly from a normal power socket. The Squad is lightweight and very energy efficient.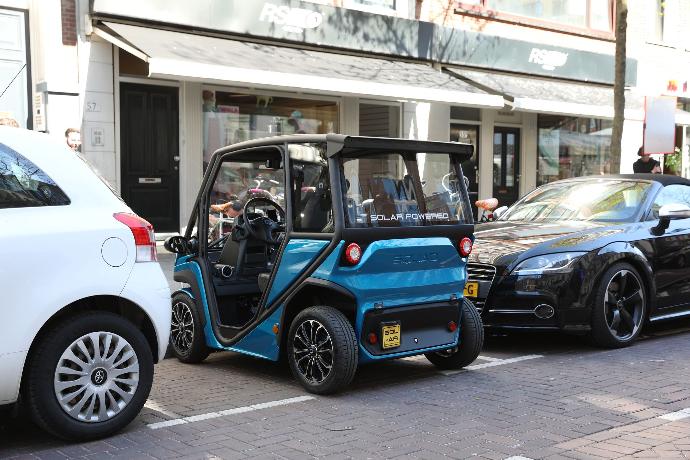 Cross Parking
With a length of only 2 meters, the Squad can be parked very efficiently perpendicular on an average parking spot, with the tyres against the curb.
Congestion and parking in cities is a growing problem worldwide. An average car has a stationary footprint of around 10 m2, a very inefficient use of the scarce space in city centers. A Squad has a footprint of only 2,4 m2, or 1,2 m2 per person. 3 Squads can easily park on 1 car parking spot. In most cities parking the Squad on the curb or special moped parking places is allowed.
The compactness and speed of 45 km/h allows for quick and easy maneuvering though the city, avoiding traffic, congestion and roadblocks.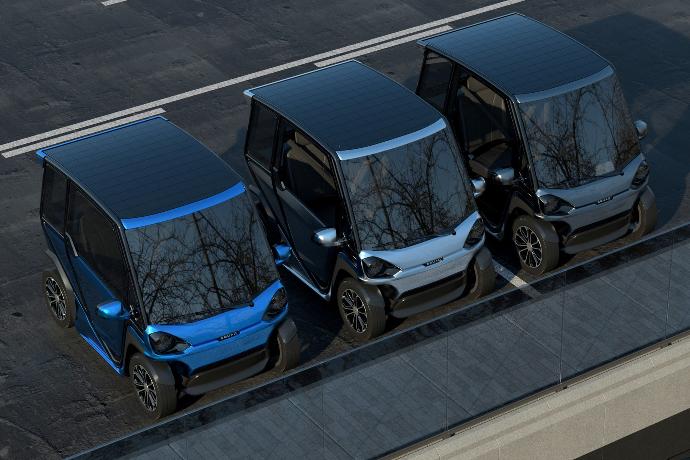 A Solar Car for everyone
Squad is an affordable solution for most consumers with a retail price starting at € 6250,- ex. tax or through a monthly lease or subscription. There will be no parking fees in most cities, no road tax and no congestion charge. The Squad is extremely energy efficient with a lower energy usage than public transport per person per kilometer.
Squad is specifically designed for sharing and MaaS ( Mobility as a Service ) platforms for (sub)urban mobility. The design of the Squad is focused on safety, comfort, low maintenance and durability in urban use. The use of recycled materials is maximized. No car drivers license is needed.

Comfort & Storage
The Squad has a very comfortable high seating position with easy access through the large door openings. The remarkably low dashboard allows space for bags or even a laptop without blocking the view through the front window. The dashboard includes a smartphone holder with USB charging. Of course cup holders are included for the coffee-to-go in the city.

In the back there is a large storage area that can be even increased by folding the passenger seat in an horizontal position. The Future L7 version can seat small children in the back.
Air-conditioning is offered as an option. But the removable doors offer a nice energy saving alternative.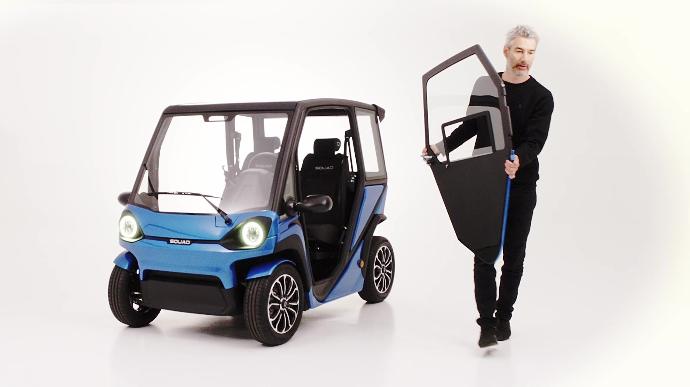 Removable Doors
Squad offers unique removable doors for those hot summer days. Doors are optional and can also be ordered separately in a later stage. Windows can be opened by sliding down in the door.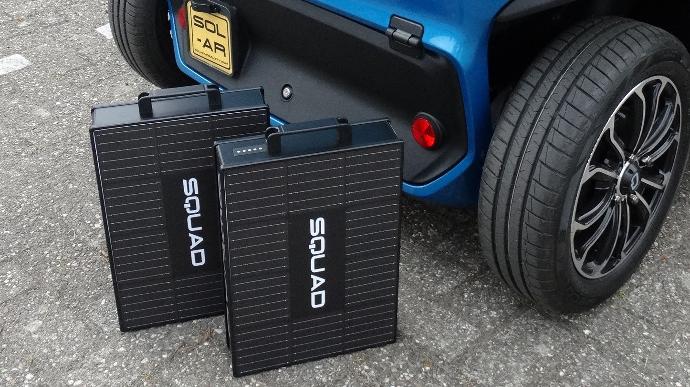 Swappable Batteries
Squad holds up to 4 portable and swappable batteries.
Each battery has a capacity of 1,6 kWh adding up to 6,4 kWh max, offering a range up to 100 km.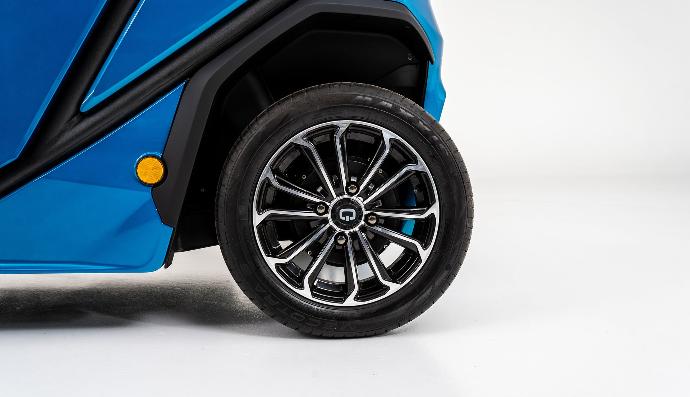 Tyres are the best bumpers
Wheels and tyres are extending beyond the bodywork at the front and rear functioning as bumpers. This is very practical for a busy urban environment where vehicles touching each other and obstacles in the public space can be a regular occurrence.
It also contributes to easy cross parking against the curb, even if the curb is very high.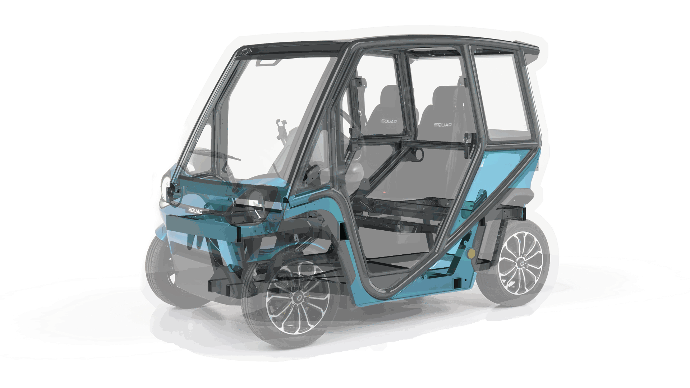 Safety & Security
The Squad is very safe for it's class. The roll cage and full front and rear crash structure are more than required for homologation in this segment and offer good protection for the passengers. Squad has seat belts and standard head rests.
The Squad is stable because of its width and low center of gravity, also during rain and snow, over tram rails and curbs.
Because of the high commanding seating position, there is good visibility over and by other traffic.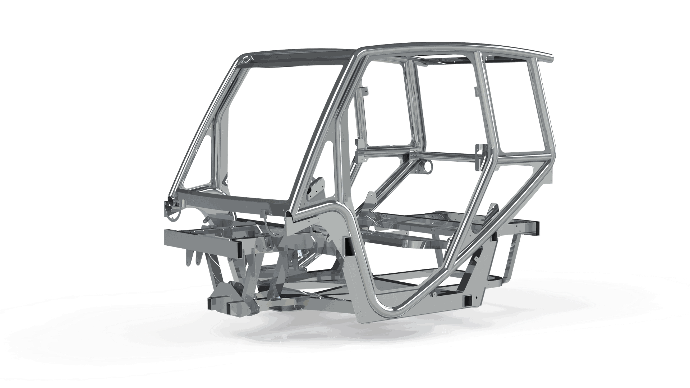 Aluminium Space Frame
The striking aluminium space frame chassis is light and an integral and visible part of the design of the Squad. It offers protection for the passengers as a full safety cell / roll cage but it also protects and supports the glass and solar panel making the Squad very durable and robust, particularly ideal for the rough reality of shared inner city mobility use. Up to 98% of Aluminium can be recycled, so Aluminum is a very sustainable metal and element. It is also light, adding to the efficiency of the Squad and the natural resistance against corrosion makes it a very durable material as well.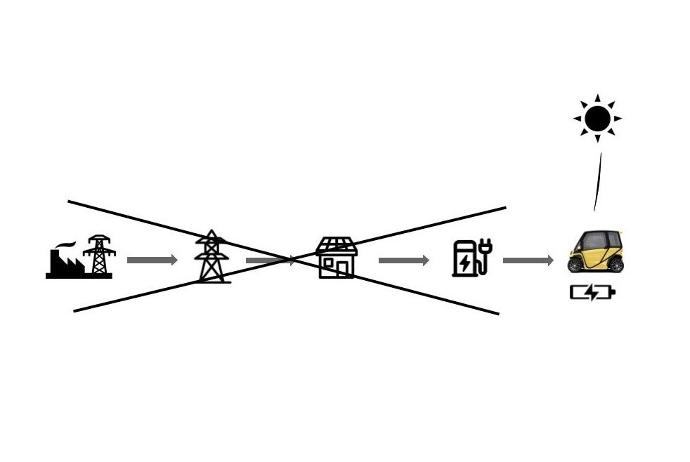 Leapfrog the Grid
By leapfrogging the grid, many inefficiencies of the grid are avoided such as AC-DC and power transformations, storage and transportation losses.

De Squad combines energy generation, storage and usage in one single product. The solar panel produces DC electricity and the battery is charged by DC electricity with minimal loss of energy.
Solar energy is not only free for the user but also for the community because Squad doesn't need a special charging infrastructure, it can charge on the regular power grid.

Management Team & Founders
Squad Mobility is founded by a very experienced team of automotive professionals with more than 40 years of combined experience with product development and automotive innovations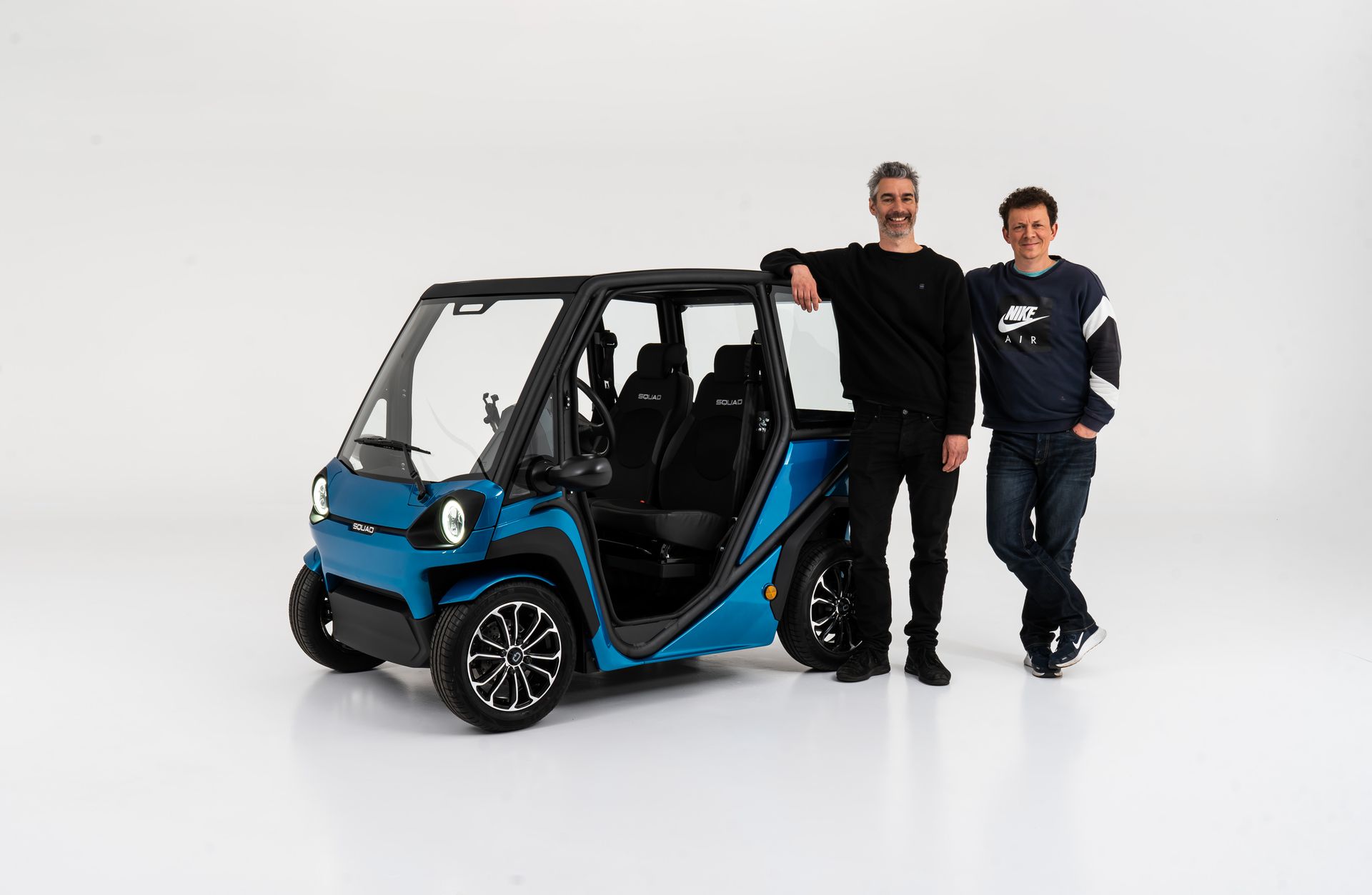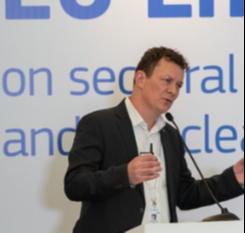 Robert Hoevers, CEO
Robert Hoevers MSc, former GM at A1GP Netherlands and one of the initiators of the FIA Formula E. Robert joined team China Racing which was later sold to NIO. He was one of the early employees at the Lightyear Solar Car project and was responsible for commerce, business development and government relations. Robert was the creator of the multi million Euro partnership with LeasePlan and the tax exemption for Solar cars in the Dutch climate accord. At Squad Mobility, next to general operations as CEO, Robert is responsible for sales & marketing.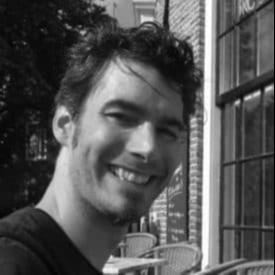 Chris Klok, Chief of Design
Chris Klok MSc MTD has a broad experience in developing mobility products, from two- to four-wheeled vehicles. He has developed advanced interior concepts for Renault, motorcycles for Piaggio and played an important role in the development of the PAL-V flying car, being responsible for systems integration and styling. Before starting Squad, Chris was the chief vehicle engineer at Lightyear, technically in charge of the complete engineering and prototyping team.
At Squad Mobility, Chris is responsible for Research and Development
GENERAL SPECIFICATIONS
| | |
| --- | --- |
| Homologation | L6e and L7 (EU) |
| Frame | Aluminium Tubular Roll Cage with full crash structure front and rear |
| Passengers | 2 Persons (L6) / 4 Persons (L7) |
| Rear Bench | 2 children up to 1.25 meter (L7 version) |
| Storage | 168 L / 243 L (seat folded) |
| Heating | Standard |
| Airco | Optional |
PERFORMANCE
| | |
| --- | --- |
| Max speed | 45 km/h (L6) 70 km/h (L7) |
| Suspension | 4 wheel, independent |
| Motors | 2 x in-Wheel RWD |
| Power | 4kW (2 x 2kW) (L6) |
| Batteries | Portable, swappable Li-ion |
| Charging | Solar & 220 V |
| Turning circle | 6 meter |
| Regeneration | Yes |
| Gearing | Fwd | Reverse |
BATTERIES
| | |
| --- | --- |
| Modules | Swappable & Portable |
| Chemistry | Li-ion |
| Battery Range | upto 100 km* |
| Solar Range | 20 km / day (in EU summer) |
| Charging | Solar & 220V & Regeneration |
| Regeneration | Yes |
| | *exclusive solar |
SAFETY
| | |
| --- | --- |
| Brakes | 4 wheel disks |
| | parking brake |
| Seat belts | All seats |
| Lighting | Front & Rear |
| | Turning lights |
| Roll Cage & Crash structure | Full Roll Cage and Crash structure front and rear |
Reserve your Squad
There are four pre-order options available for the Squad. We have the regular production Squad reservation available for €50, the Pioneer version for €500 for production numbers 101 to 1000 and the Squad Limited Edition of €5000 for the first 100 in production. Outside the EU we have a reservation option for only €5, however, no estimated start of production is set yet for outside EU markets. The Squad Limited Edition has the longest range with all batteries. The reservation fee is fully refundable at any time before the actual purchase of your Squad except for a 3% administration and payment provider fee.
Squad production is scheduled to begin in 2023. When production begins, we will begin deliveries in Europe starting in the Netherlands, moving east and south. After you have paid your pre-order, we will reach out to you before production. You will then be able to configure your squad with your desired colors, options and finalize your purchase.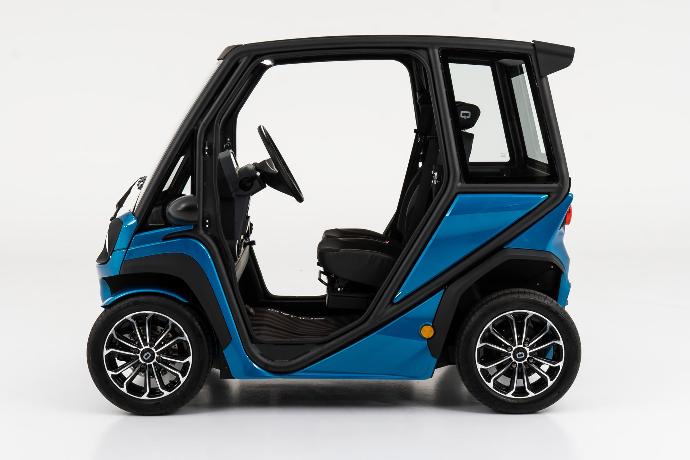 Squad Solar Pre Order Options
Free (Outside EU)
Estimated price




€ 6250 ex. tax



Basic Squad Solar
50 km range (2 batteries)

Optional Doors

Optional Air Conditioning
Optional extra batteries
Regular Production
Estimated price




€ 6250 ex. tax



Basic Squad Solar
50 km range (2 batteries)

Optional Doors
Optional Air Conditioning
Optional extra batteries
Pioneer Edition
Estimated price




€ 7050 ex. tax



Squads nrs. 101 - 1000
50 km range (2 batteries)
Full doors with windows
Optional Air Conditioning
Optional extra batteries
Limited Edition
Estimated price




€ 9300 ex. tax



FIRST 100 SQUADS
100 km range (4 batteries)
Full doors with windows
Air Conditioning
Full Range
Mobility as a Service (MaaS)
The Squad is specifically designed for sharing platforms with focus on connectivity and efficiency.
Connectivity, cameras, sensoring, remote diagnostics, state of operation and maintenance, SOTA, FOTA are all part of our focus on sharing solutions. On the mid-term we are looking to introduce remote control of the vehicles by an sharing operator. Our long term vision is to realise swarms of solar vehicles in cities worldwide moving autonomously to places with high demand.
We can customize the design to your platform and specifications. Please contact us for inquiries.
Shared Mobility offers your users ;
Easy access and ingress for 2 persons with luggage

Comfort, weatherproof

Easy intuitive operation

Safety ; full crash structure and roll cage, Intrinsically stable 4-wheel

Easy parking anywhere

Quick through traffic
Cities demand;
Small footprint & space claim of scarce public space in cities

Emission free | sustainable design & production

Independent from charging infrastructure

Charging with regular power infrastructure and the sun
Operators appreciate;
Low capex, low opex

Solar-electric, self charging

Swappable batteries

High durability, rugged design

Easy cleaning, low maintenance

Connectivity options

Cargo options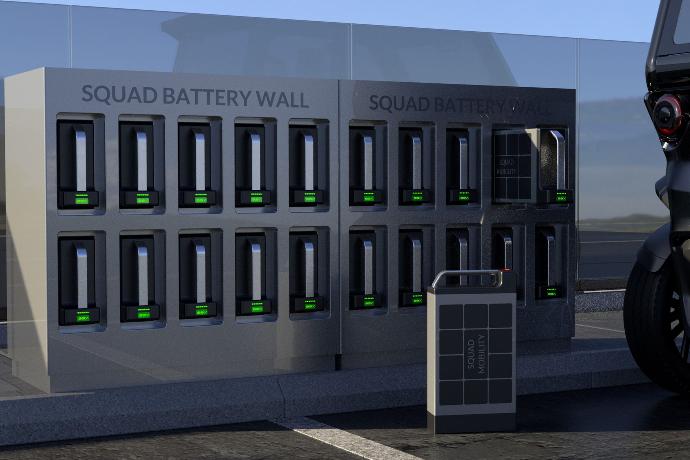 Swappable Batteries
Keeping the fleet charged is a large operating expense for EV sharing platforms . Automatic solar charging offers a daily decrease of these costs and this will improve with advancing technology in the years to come, both solar PV, battery and powertrain efficiency.
Squad supports the solar charging with a swappable battery system where fleet owners and managers can quickly swap batteries with the help of the mobile or stationary Squad battery charging station.
Ultimately, the Squad can also be charged directly from the grid or charging infrastructure.
Invest in clean urban mobility with Squad Mobility
Join us on our mission to clean urban mobility for everyone worldwide. We are currently offering convertible loans which convert into certificates of shares, including accrued interest with a discount on the share price.
If you are interested in the terms, please contact us through the contact form here below and choose 'investment' at the inquiry field.
Frequently Asked Questions (FAQ)
How long does it take to fully charge the battery?
We get this question a lot and of course we understand the question. However, a solar car works bit different than a normal EV. The Squad charges each day and every day throughout its lifetime. When the battery is full, you can't charge anymore, which would be a shame of course. Ideally you would find a balance between your daily usage and the solar charge. The average usage of micro cars is around 12 km per day and the panel can charge up to 20 km per day (in the Netherlands) so for most users, in most occasions this would work.
Does the Squad only work when the sun is shining?
The Squad is a solar electric vehicle which charges the battery through the solar panel on the roof of the car. Alternatively the batteries can be charged directly on a regular power plug or a charge point. The swappable batteries can also be charged externally of the car.
What is the range of the Squad, what is battery range and solar range?
The Squad has a range of 100 km from a maximum of 4 swappable batteries, we call that the battery range. The solar panel can charge the battery up to 20 km (validated in the Netherlands), we call this the solar range This will be better closer to the equator, for example in Spain the solar range will be up to 28 to 30 km per day.
When is the Start of Production (SoP) and timing of Deliveries?
The start of production is currently planned for 2024 in the EU.
We see that these Start of Production (SoP) and delivery dates unfortunately tend to be very hard to predict. Both at Squad Mobility but also at other manufacturers, even at some of the most famous brands in the world. To bring a technical development project to production is hard to plan in itself but especially within a Startup or Scaleup. We are also subject to external factors such as Covid, supply issues, the financial markets, the labour markets, legislation, etc. which can disrupt our planning.
Rest assured that we are busy 24/7 to bring the Squad to production. We enjoy a tremendous interest worldwide for this affordable solar city car which can be a solution to the mobility needs of so many people. Our mission is to make the Squad a reality and available to as many people as possible and we won't rest before we have realised this.
When will you come to our city/country/region/continent?
The Squad is currently designed for European Union homologation, Left Hand Drive (LHD).
We will develop a RHD (Right Hand Drive) version and we will also expand beyond Europe. As we have not decided yet where we will go first, we offer pre-orders outside the EU for free. In this way we will investigate where the best market for the Squad is and where we should go next. So if you want that we come to your city of country sooner than later, just make a pre-order, share it amongst all of your friends and share it on social media, motivating others to do the same. Pre-orders are all refundable and non-binding.
Will you also offer a 4 person version?
The Squad L6 45km/h is only available as a 2 person version as only max 2 persons is legally allowed in the EU for L6.
The L7 will initially be offered as a 2 person 70km/h version with stronger motors for example for hilly areas and slightly higher speeds.
A 4 person L7 is something we plan to develop with space for children on the rear passenger seats to keep the size and weight of the Squad low and to maintain a high efficiency.
Will you also offer a 90 km/h L7 ?
The L7 will initially be offered as a 2 person 70km/h version with stronger motors for example for hilly areas and slightly higher speeds.
We are not planning to go over and above 70 km/h although it is legally allowed to go up to 90 km/h with an L7. However we think 80 km/h or 90 km/h is not safe enough for the L7 vehicle class although we went over and above the legally required crash structure to make the Squad extra safe. Moreover, speeds in urban environments are decreasing to make cities more liveable and to decrease speed differences between the various modes of transport in urban environments.
Where can I drive and park a Squad?
The L6 and L7 Squads can basically be driven and parked anywhere where you can drive and park a moped. However local rules do apply so make sure you familiarize yourself with your local regulations.
Can we become a service / distribution partner for Squad Mobility?
Yes, we love to work with local high quality service partners offering great added value and service to our customers.
We are on a mission to offer 'affordable solar mobility for everyone, everywhere'. As part of our mission, we like to offer our customers transparency in our pricing, We don't do discounts, nobody likes to negotiate a price with a car dealer. We offer the Squad directly on our website, as well as the future spare parts. As you can see, our consumer prices are extremely challenging, the Squad is the most affordable micro car in the EU market. We believe our customers have no problem to pay a markup for excellent local service as long as they know how much it is and what they can expect for this money.
Can I make multiple orders?
If you get in contact with us through the webform below, we can help you make a single pre-order for multiple Squads or even a (small) fleet.
In the coming years we will appoint service partners to offer local repair and maintenance service, spare parts and warranty in each area where we offer the Squad.